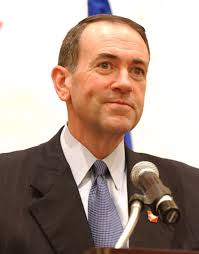 Gov. Huckabee,

Thank you! Thank you for opening doors for those of us who have been waiting for someone to speak on our behalf. Thank you for the countless hours you spent traveling, speaking with the media, and reading our comments posted on the website.

You are a man of integrity, character, and courage. I have never believed in a candidate the way that I believe in you. I have never even had any interest in politics until I heard you during your first republican debate many months ago. I remember asking myself, "who is that man?" and running to the computer to gather information about you on the internet. It was then that I found MikeHuckabee.com and began a journey with you that I will always cherish and continue. I will continue to support you now and in the upcoming years as we look ahead to 2012. I will not stop.

I have spent countless hours and sacrificed family events, church activities, even studying for mid-terms to make phone calls to states all across this country. States that I have never even visited. If I had the opportunity to do it again this afternoon, I wouldn't hesitate. Being a part of this campaign is something that I will never regret, but only look back on with joy and eagerness for the future that God holds in store for you.

I never had the opportunity to vote for you here in North Carolina, but I will make that a reality on May 6th because you are the ONLY candidate that I believe in, the only one who wants to protect the human life of those who can't protect or speak for themselves, and the only one who has a heart like David. You, Gov. Huckabee, are my dream President and I look forward to the day when that dream becomes a reality.

America has missed out on such a blessing this time around. And they have the media to thank for the majority of that. They have appalled me these past few weeks and as I sit here today, my television is turned off, my radio isn't playing the local Talk Radio station, there is nothing but complete silence. I can't listen to them say one more negative or immature remark toward you or your candidacy. You are the only one that can bring us positive changes in this country. Each day she is slipping further and further away from us, and we can only pray that God will protect her and intervene.

A few years ago, my now eleven-year-old son, Brandon, made the comment that he wanted to be President when he got older. I remember laughing it off because I thought he was just saying what most little boys his age say at that age. He repeated it several times during the years and then you came along. Brandon watched me as I got involved in your campaign.....slowly at first, but then full force. I remember him coming to me after I finished reading your book Character Makes A Difference and asking if he could read it. Brandon still wants to be President and you have given him further hope in that dream and that it can come true for him as well as anyone else. And you have made me see it as well. He likes to tease me and say that I am gearing up for his campaign 30 years from now with all the phone calls I've made. And it has helped me to realize that he can be anything that he desires. He has watched your debates and learned issues about our country that I hadn't even learned until a few short years ago myself. Thank you for being a role model for our children. Brandon respects you and admires you and so do I.

You had called me less than a month ago one evening to thank me for all the phone calls I had made on behalf of the campaign. How unexpected it was for me. That touched me in a very special way. And my children as well. You took those few minutes out of your very busy schedule to call and thank a volunteer in North Carolina. I am humbled and it is a memory and gift that will forever be imbedded in my heart and mind.

Thank you for running an honest, positive campaign. My father ran for Sheriff back in the 1990's in a little town called Fairmont, West Virginia. He too ran a very positive campaign and I respected that. For each attack that came his way, he just turned the other cheek and focused on what he believed in and stood for. Now I can say that there are two men that have touched my life by showing me how you really can just walk away and not cast a stone at the one who first cast it at you.
You are a candidate that I am proud of. Thank you for keeping your promises and fighting the good fight. But most of all, thank you for standing firm on our solid Rock, our Lord and Savior. I may never meet you here in this world, but I will one day on the streets of gold, there is no doubt.

I have prayed for you and your family continuously throughout this campaign. I have also prayed for all my fellow Rangers on the board. I will continue to ask God to bless your family and to give you the wisdom and guidance that you need in the upcoming days, weeks, months and years.

It has been an honor to be a part of this amazing journey and I look forward to the days ahead. I'm in this until the day I can call you President Mike Huckabee.
In Christ,

Rhonda Kelly